Better Off Dead: Images
A collection of archive material, posters, rehearsal and production images pertaining to Alan Ayckbourn's
Better Off Dead
.



An extract from The Times on 22 July 2017 confirming
Better Off Dead would be Alan Ayckbourn's 82nd play.
(Copyright: Times Newspapers Ltd)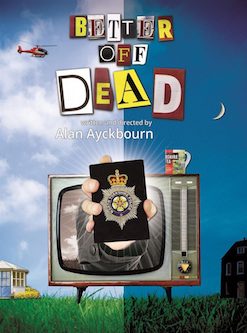 The poster for the world premiere of Better Off Dead
at the Stephen Joseph Theatre, Scarborough, in 2018.
(Copyright: Scarborough Theatre Trust)

All images are copyright of the respective individual / organisation and should not be reproduced without permission.